50/50 Draw Winner
DENNIS DOWKER
Winning Number: 6821068
Jackpot Prize: $90,775
Hogs for Hospice returns in 2022
The Hogs for Hospice organization has been faced with many important decisions over the years, but no decision more important than our 2021 Hogs for Hospice Bike Rally.  The health, safety and well being of our community, our guests and our Hogs for Hospice Ambassadors (aka H4H Army) has been and always will be our highest priority.  Despite our determination to put on an event that everyone can be proud of, it is with great sadness that we announce the cancellation of Hogs for Hospice 2021. 
Hogs for Hospice is already planning our 2022 much anticipated 5th Anniversary Event, Civic Long Weekend July 29th, 30th & 31st 2022.  As we continue building on our existing relationships we are also bringing on additional partners for next year as our Board of Directors is dedicated to making our 2022 event bigger and better. 
We realize during this very trying time, that everyone was looking forward to our event, and for that we are grateful.  We are excited to bring back our very popular 50/50 draw as well as introducing a Poker Run this year.
We want to thank everyone for their patience, understanding and continued support of H4H.  We are so humbled by your belief in Our Vision & Our Cause
Stay Tuned, Stay Positive & Stay Safe
Hogs for Hospice Board of Directors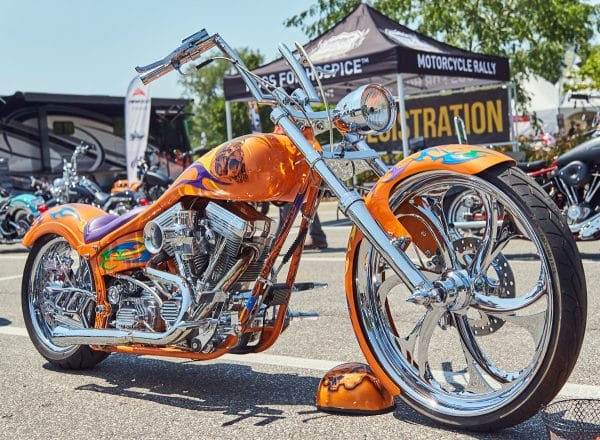 EVENTS
World Record Attempt
Tour the Tip Registered Ride
H4H Bike Games
Iron by the Beach Custom Motorcycle Show
Freestyle Motorcycle Show
Honour our Veterans Ceremony & Blessing of the Bikes
Concerts
Axe Throwing
Over $1,250,000 Raised
by Hogs for Hospice™ for the Erie Shore Hospice.
THANK YOU HOGS FOR HOSPICE 2019
We are overwhelmed by the support and generosity we experienced this weekend. Thank you to everyone who made this event possible. It really does take EVERYONE to make this work. The sponsors who cover the cost of the entertainment, the over 500 volunteers who perform a wide variety of important tasks, the Municipality of Leamington, the Erie Shores Health Foundation, the many partner organizations, the residents of Leamington, the riders, Point Pelee National Park, the town of Wheatley, the police, fire department and EMS and everyone who came to participate and many others. There are so many people who contribute in some way to this event.
It will take a few weeks to get all the final numbers in, but this event continues to grow every year and I think it is safe to say we have exceeded last year in every area including the amount of money raised. On behalf of the Board of Directors thank you once again. God bless you all.
"Tour the Tip"
Registered Ride
Saturday, July 30th
10:30 am – 1:30 pm
Help raise money and earn rewards with pledges.
CONTACT US
This form is for general inquiry messages only. Please click one of the categories below if you are looking for something specific. Thank you.