2020 Event Canceled
See you in 2021
Canada's Most Southern
Motorcycle Rally
Hogs for Hospice returns in 2021
The 5th Annual Hogs for Hospice Motorcycle Rally is a 3 day party you won't want to miss! With support from all levels of government, hundreds of volunteers and generous sponsors, Hogs for Hospice has become one of the biggest, most organized motorcycle rallies in Canada. Once you experience it you will understand why it's been said that "H4H is no longer and event, it is a movement." Add this one to your bucket list and make your way to Leamington, Ontario this Civic Holiday 2021 where you will find a warm welcome, southern hospitality and world class entertainment.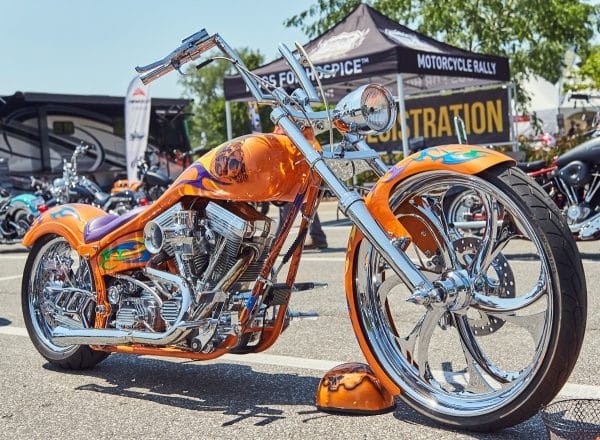 EVENTS
World Record Attempt
Tour the Tip Registered Ride
H4H Bike Games
Iron by the Beach Custom Motorcycle Show
Freestyle Motorcycle Show
Honour our Veterans Ceremony & Blessing of the Bikes
Concerts
Axe Throwing
Over $1,000,000 Raised
by Hogs for Hospice™ for the Erie Shore Hospice.
THANK YOU HOGS FOR HOSPICE 2019
We are overwhelmed by the support and generosity we experienced this weekend. Thank you to everyone who made this event possible. It really does take EVERYONE to make this work. The sponsors who cover the cost of the entertainment, the over 500 volunteers who perform a wide variety of important tasks, the Municipality of Leamington, the Erie Shores Health Foundation, the many partner organizations, the residents of Leamington, the riders, Point Pelee National Park, the town of Wheatley, the police, fire department and EMS and everyone who came to participate and many others. There are so many people who contribute in some way to this event.
It will take a few weeks to get all the final numbers in, but this event continues to grow every year and I think it is safe to say we have exceeded last year in every area including the amount of money raised. On behalf of the Board of Directors thank you once again. God bless you all.
"Tour the Tip"
Registered Ride
Saturday, August 1st
10:30 am – 1:30 pm
Help raise money and earn rewards with pledges.
CONTACT US
This form is for general inquiry messages only. Please click one of the categories below if you are looking for something specific. Thank you.